Visiting Dubai
last update: 09 May 2020


Topics covered on separate webpages are - The Mall, The Burj Khalifa, The Dubai Fountain, and Jumeirah Beach.

In addition, I have tried to summaries and review some iconic examples of Dubai architecture.


Introduction

Our
New Year trip for 2020
ran from late January 2020 to mid-March 2020 and involved 8 nights in
Dubai
and 43 nights in
Phuket
. We spent 3 nights in
Dubai
outward bounds, and 5 nights in
Dubai
on our return flight.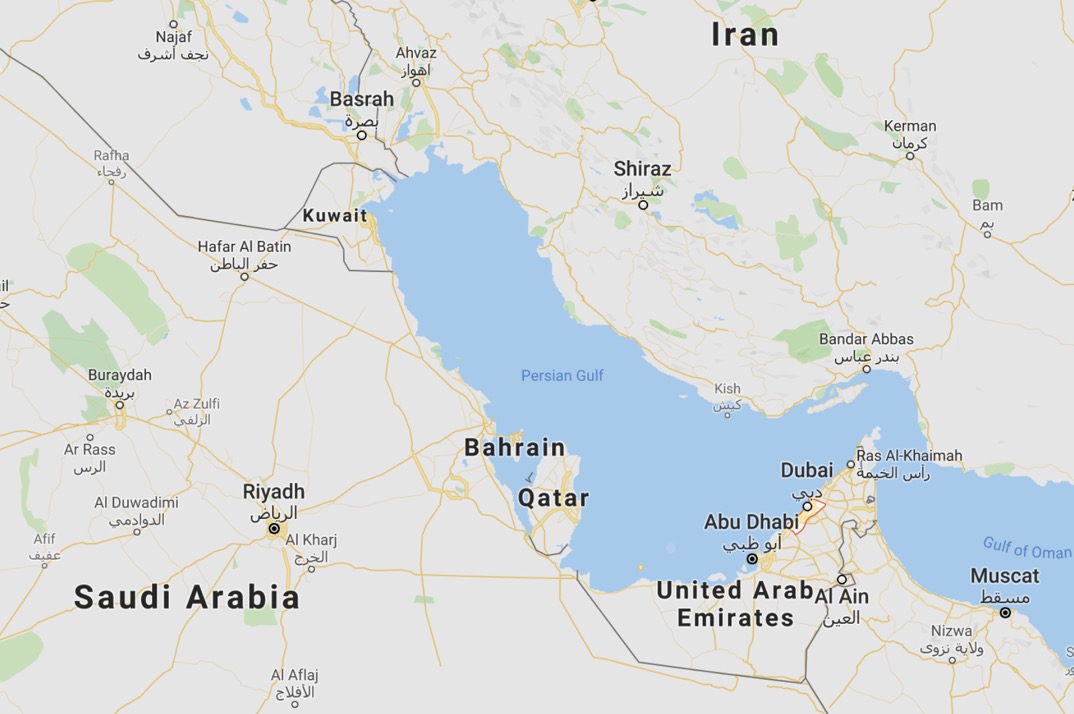 On this webpage I'm going to look at the preparations we made for our visit to Dubai. In many ways our visit to Dubai was almost accidental or incidental, in that it was linked to our flying with Emirates. As I noted above our holiday plan was a long stay in Phuket. Actually our original plan had been to spend October 2019 in Mauritius. Given the difficulties booking a business class flight direct to Mauritius we shifted to a stopover option with Emirates. When finally our destination shifted to Phuket, we kept Emirates and the idea of a stopover in Dubai. A day or two stopover in Dubai just sounded both interesting and relaxing. From there it finally ended up as a 3-day stopover outward bound and a 5-day stopover coming back.

I expected that one day we would visit Dubai. Many people we know have talked very positively about their visits to Dubai, so a visit became kind of inevitable. When faced with a stopover in Dubai it was natural that we would add a few days.

But of course that meant that we had no preconceived expectations, so this webpage tries to capture our 'on-the-fly' planning for our first visit to Dubai.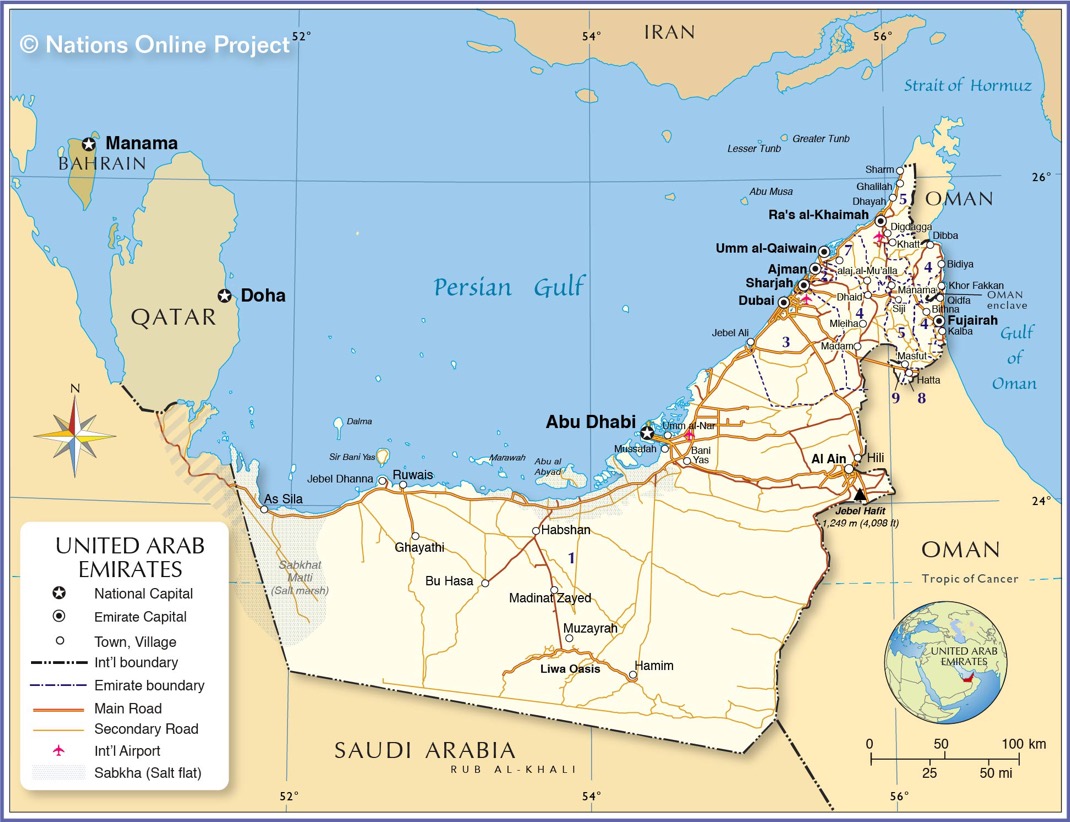 Dubai is part of the United Arab Emirates (UAE), and as Wikipedia points out it is a sovereign constitutional monarchy consisting of a federation of seven emirates consisting of Abu Dhabi (which serves as the capital), Ajman, Dubai, Fujairah, Ras Al Khaimah, Sharjah and Umm Al Quwain. The UAE is situated at the Northeast end of the Arabian Peninsula on the Persian Gulf, bordering Oman to the East and Saudi Arabia to the South and West, as well as sharing maritime borders with Qatar to the West and Iran to the North. This Northeastern part of the Arabian Peninsula is called the Musandam Peninsula, and includes parts of the UAE and Oman.

To better understand the complex boundaries between the different emirates we need to introduce the concepts of enclaves and exclaves. An enclave is a territory entirely surrounded by one other state, for example the Vatican City State is enclaved by Italy. A semi-enclave is a territory entirely surrounded by one other state, except for its sea boarder which touches international waters, as an example Monaco is a semi-enclave. An exclave is a part of a state that is geographically separated from the rest and is entirely surrounded by one or more other states (you can also have semi-exclaves).

In the above map we can see the following:-
Abu Dhabi (code 1)
Ajman (code 2 is almost invisible on the above map), has two exclaves, Manama and Masfout.
Dubai (code 3), has an exclave called Hatta.
Fujairah (code 4), has the exclave Dibba (shared with Sharjah and Oman).
Ras Al Khaimah (code 5), has an exclave in that its territory is cut into a northern and southern region by a strip of land belonging to Fujairah.
Sharjah (code 6 is invisible on the above map), has several small exclaves Kalba, Khor Fakkan and part of Dibba, as well as the counter-enclave of Nahwa which is inside the Oman exclave of Nahwa, which itself is totally enclosed by the UAE.
Umm Al Quwain (code 7).

In addition area 8 is under the joint control of Fujairah and Sharjah, and area 9 is under joint control of Oman and Ajman.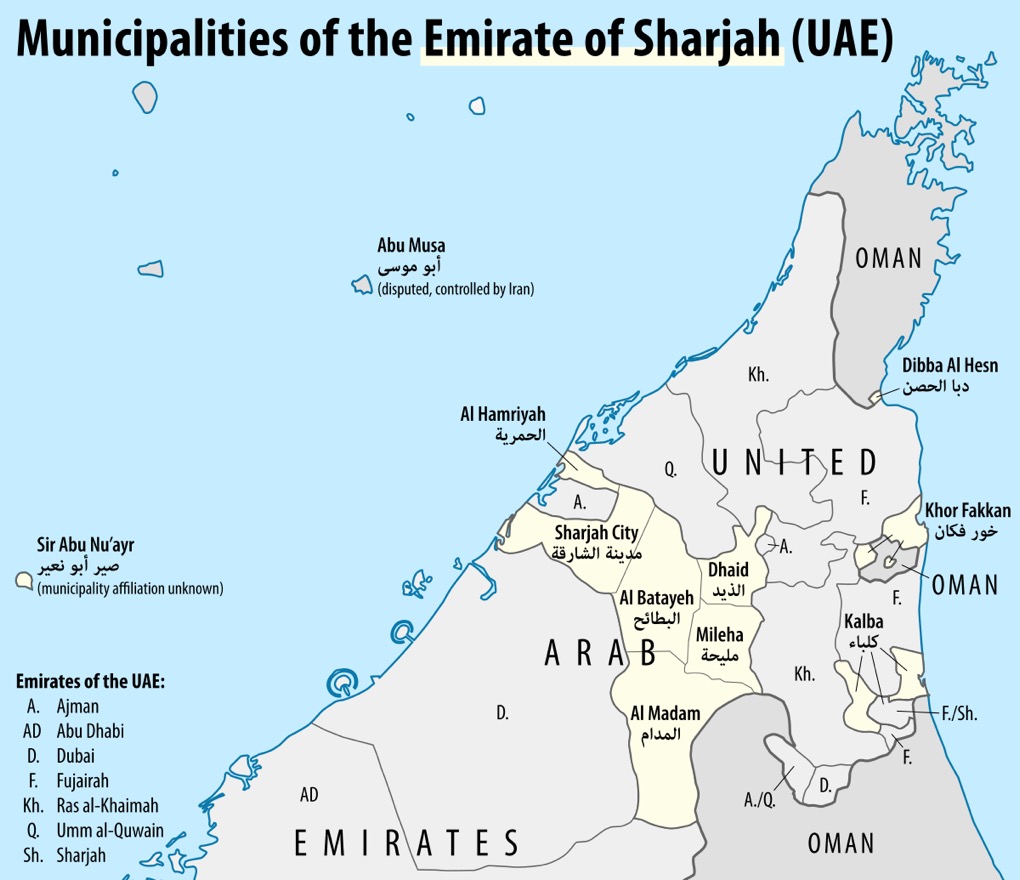 I'm pretty sure I've missed more than one UAE enclave/exclave, but even if the above map is focused on the municipal areas of Sharjah, it nevertheless identifies most of the UAE enclaves/exclaves.

The UAE has an area of about 83,600 km2, which makes it about the size of Austria, and about ⅓ the area of the United Kingdom. The country consists mostly of a barren landscape with gravel plains and desert dunes, and including the Empty Quarter, the largest sand desert in the world. The UAE has a population of 9.3 million people, so slightly more than Hungary and slightly less than Sweden, however Emiratis only make up about 12% of the population.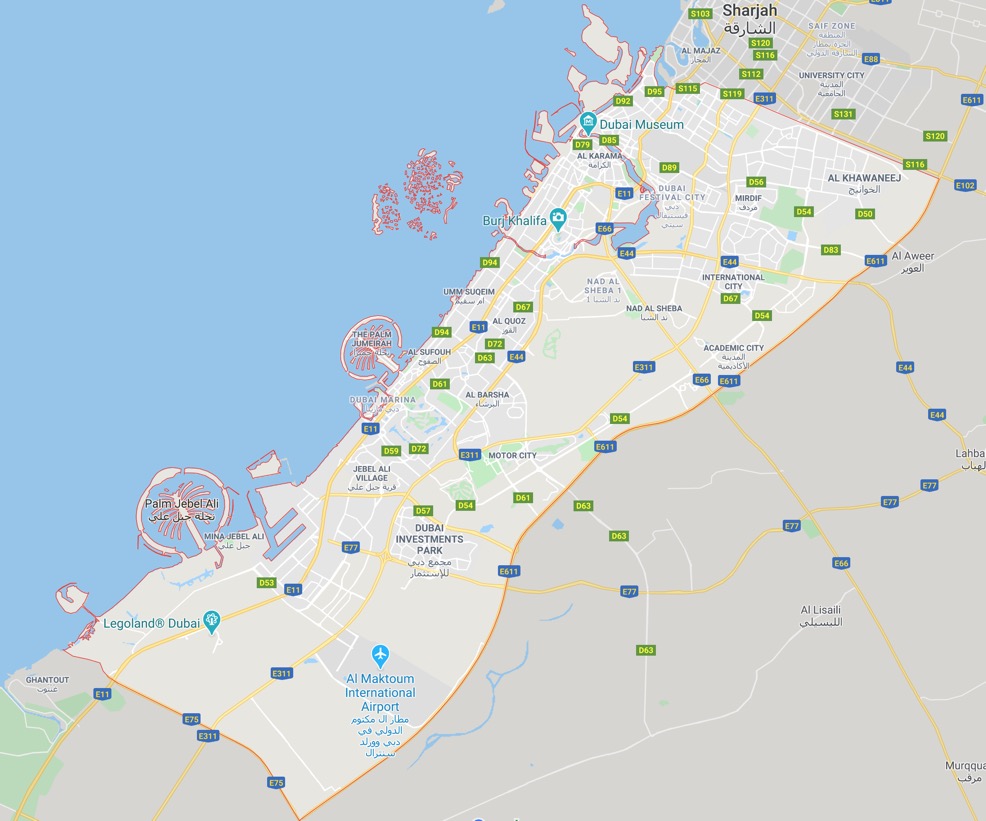 The Dubai Emirate covers 4,114 km2, which now includes an increasing amount of land reclamation. So the Dubai Emirate is about the same size as Cape Verde, and 1/10th the size of The Netherlands or Switzerland. The population of the Dubai Emirate is about 3.33 million, so a touch more than Jamaica and bit less than Uruguay.

Abu Dhabi is the capital of the UAE, but Dubai City is the most populous, with about 2.9 million people. So most of the people in the Dubai Emirate live in Dubai City, and in fact as far as I know the city itself is defined by a smaller area of about 1200-1500 km2 (the area covered by the metro and tram). This means that Dubai City has a population bigger than Taipei, Bucharest, Vienna, or Budapest, and is around the same size as the commune and capital of Rome. One quite unique feature of the Dubai Emirate is that more than 85% of the population are expatriates. Dubai International Airport is the fifth-busiest airport in the world by passenger traffic, the sixth-busiest by cargo, and the world's busiest airport for international passenger traffic (London Heathrow is second).

I repeat, what is written below was part of our pre-planning. What actually happened is included on one or other relevant webpage:-

Now we turn to a number of very practical topics, namely visa requirements, vaccinations, banned substances, controlled medication, dangerous goods, customs controls, security checks, do's and don'ts, language used, currency, tipping, weekends, dress code, unmarried couples, displays of affection, swearing, photographing, drugs and drinking, electricity plugs and sockets, telephone services, crime, and disinfecting hotel rooms.


In addition at the end of this webpage I've added some of our initial ideas on tourism and visits. And I've also added a section on travel award programs.


Dubai - visa requirements

According to the
Emirates webpage on visa information
for the
United Arab Emirates
there are 'visa on arrival' facilities for passport holders of certain countries. For
British passport
holders there are no advance visa arrangements and a 30-day visit visa will be accorded free of charge (extendable). Interestingly the arrangement for holders of
French passports
is a little different. It says that their passports will be stamped with a multiple entry 90-days visit visa that's valid for 6 months from the date of issue, and for a stay of 90 days in total (not extendable). Both types of visas are issued as you disembark at
Dubai International Airport
. This information is confirmed on the
Dubai International Airport webpage
, which points to the webpage on visas of the
General Directorate of Residency and Foreigners Affairs
.


The reality is that for our first trip through
Dubai
my wife and I (so one
French passport
and one
British passport
) received the same stamps.
Dubai - vaccinations
Bupa
recommended a combined DTP vaccine (
Tdap
with
diphtheria
,
tetanus
,
pertussis
),
measles
-
mumps
-
rubella
(
MMR
), and
polio
. They also suggested considering vaccinations against
hepatitis A
and possible
hepatitis B
and
rabies
. According to
Travel Health Pro
they also mention
MMR
and a
diphtheria
,
tetanus
and
polio
vaccine (plus immunisation against infectious diseases dependent upon lifestyle, etc.). The
World Health Organisation
recommends in addition to the above also
typhoid
,
anthrax
,
meningitis
,
shingles
and
pneumonia
.
The
US Centers for Disease Control and Preventions
(CDC) says you should be up-to-date for
MMR
(
measles
-
mumps
-
rubella
),
Tdap
(
diphtheria
,
tetanus
,
pertussis
),
varicella
,
polio
and
flu
. They also suggested that most travellers should also be vaccinated for
hepatitis A
and
typhoid
. They noted that vaccination for
hepatitis B
and
rabies
were not a normal requirement.
According to the
Emirates
website there are no vaccination requirements for someone travelling to the
United Arab Emirates
(UAE) from the
United Kingdom
. Yet other websites note that there are no requirements from the
UAE
authorities, although it is best to be up-to-date with your routine 'jabs'.
The
UAE Health Authority recommend
that their citizens when travelling have up-to-date vaccination status for
meningococcal
(
meningitis
and
sepsis
), influenza (
flu
),
yellow fever
,
pneumococcal
(
pneumonia
),
hepatitis A
and
hepatitis B
,
typhoid
, and
rabies
.


For our trip we spoke with our doctor about 2 months before leaving. We were advised, based upon our vaccination cards, to complete our protection for
hepatitis A
and
hepatitis B
(with the 2nd and 3rd rounds of
Twinrix
).

We also were vaccinated against
typhoid
.

We were already protected for
diphtheria
,
tetanus
,
polio
and
pertussis
(whooping cough).
Dubai - banned substances

According to the
Emirates webpage on banned substances
the
United Arab Emirates
has a
zero-tolerance anti-drug policy
.


Dubai - controlled medication

For all 'controlled medication'
prior approval is needed
. There is an
online approval process
available, along with
travellers guidelines
, and including an annex with an
alphabetical list of all controlled substances
.


As I understand it for both controlled and uncontrolled medication a prescription for the quantity of medication being brought into the country is needed (maximum of 3 months' supply).


In one Q&A it was mentioned that
medications
are allowed if they have a doctors prescription letter and explanation about what they are for.
They must be in the original packaging.
Vitamins and supplements
are allowed provide they are also in their
original packaging
. No letter is needed for this. There is no need to declare medicines and vitamins at the customs. If they decide to check, just show the letter for the medicines. There will be no problem with the usual type of vitamins and supplements.

Another comment included the fact that someone had their doctors letter with a seal from the
Trade Department of the Australian Government
, then it was sent to the
UAE
Embassy for them to stamp it as well. It would appear to be a paying service in
Australia
and with the
UAE
Embassy.


It looks like the best advice is to build a list of all needed medication, check it against the list of allowed medication, and then obtain a full prescription and keep everything in their original packaging.

And remember to get a doctors letter describing the need for those medications.

Dubai - dangerous goods

Spare or loose
batteries
must be in your carry-on and should not be checked in (this includes any form of power source). The limit is 20 spare batteries per passenger.
Lithium batteries
in computers, cameras, mobile phones can be taken as carry-on's or checked-in.

Non-flammable, non-toxic
aerosols
, such as toiletries, etc. must be checked-in, but perfumes, colognes and medicines containing alcohol can be either checked-in and carried-on.

It's better to check-in any
powder-like substances
(better to be safe than sorry).


Emirates
has a webpage with their
dangerous goods policy
.


Dubai - airport security and custom checks

It is worth noting that the airport is very big, and that it would appear that this means lots of walking from one place to another, and lots of queues. Many people said they got confused by the signs, and since the terminals are connected by trains a mistake could easily mean a missed connection flight. Another thing many people talked about is waiting in long queues.

Check out the
Security & Customs
webpage of
Dubai International Airport
.


We had booked assistance for my wife, and a wheelchair certainly made things much, much easier. We did not get lost, and we did not experience any long queues. This may be because of the wheelchair assistance or perhaps because we had 'fast track' with our business class tickets.
Dubai - customs controls

Usual rules about cigarettes, perfumes, alcohol, etc.


Allowed is medication with a doctor's prescription for personal use for a maximum of 3-months consumption.


The
Dubai International Airport
website says that the personal cash allowance is
AED 100,000
, and more must be declared (i.e. over €24,000). This is also on the
Dubai Customs website
.

The airport website also mentioned that you are not allowed to bring into the country "
any printed material that contradicts Islamic teachings and/or decency, or that deliberately implies immorality or turmoil
". The Dubai Customs website list banned items, including ivory and Rhinoceros horn, cooked and homemade foods, and trees, plants and soil. The website also mentions that original prints, lithographs, statues and sculptures in any material are also not allowed in. Also goods from Israeli origin or bearing Israeli trademarks or logos are banned.

But as far as I can see you can bring in clothes, toiletries, mobile phones, PC's and laptops, radios and CD players, sports equipment, cameras and video cameras, and jewellery. However, you might be asked to turn on electronic devices, so make sure they are charged.

Some websites say that radios, films, books, photographs, DVD's and CD's, medicines of all kinds, must be declared.


We did not see anyone having their books, etc. checked, and we did not declare our books, medicines, etc.


One website mentioned that the legal documents of people entering the country are checked, including passport, visa, and
other documents such as hotel reservations and itinerary
. Also it claimed that
biometrics will be scanned and recorded
. It is possible that there are two controls, one before passing through the security check.


Our biometrics were scanned, but no one asked about hotel reservations, etc.
Dubai - security checks

Check-in comes first, then passport control will want to see the boarding card and passports. They will put an exit stamp in the passport.

Going though
security control
and the
metal detector
you must remove anything metallic, such as belt buckles and some types of shoes.

Liquids, gels, lotions, paste, and creams
must be in containers with a capacity of 100 ml or less. They must be in a transparent, re-sealable plastic bag. You may not have more than one bag containing liquids, etc.
Exceptions are made for medications, but it's probably better to also place them in a transparent, re-sealable plastic bag.
Aerosols are not permitted as hand-luggage
, they should be checked-in.

It is sensible to place all 'loose' items, mobile phone, wallet, watch, keys, jewellery, etc. in the
hand baggage
.


Laptops
should be kept apart and easy to access because they must be placed in a separate security tray.

Dubai - do's and don'ts
Criticising Islam is forbidden
for Muslims and non-muslims alike. This is not a freedom-of-speech issue, and punishment can be very severe. You should not criticise local authorities, police, politics or Palestine.

The
left hand
(I'm left-handed) is traditionally used for 'body hygiene' in
Islamic culture
, therefore be mindful to avoid using the left hand.

Don't shake hands with the left.
Don't open doors with your left hand.
Don't hand someone something, especially food, with the left hand.
Don't eat with the left hand.
Don't take photographs of people without their consent, especially of women and children.

Sex out of marriage and public demonstration of affection are also punishable. So kissing and hugging in public are frowned upon, or worse.

Dress modestly.
Women should cover their hair, and trousers are better than skirts. Avoid mini-skirts and low necklines.


Do not swear or curse in public.


It would appear that
handshakes
should be gentle, firm handshakes are considered rude or disrespectful. Do not shake hands with a Muslim woman.


Punctuality
is a sign of respect, being late is considered disrespectful.

Dubai - language used
Arabic is the official language, although almost everyone speaks English.

Dubai - currency

The local currency is the
United Arab Emirates
Dirham
(Dhs or, DH, or AED), worth about 4.14 to 1€, however it is said that the US $ is accepted in many places. There are 100 fils to one dirham. I understand that the dirham is pegged to the US $.
It is difficult, if not almost impossible, to pay in €.
According to Wikipedia the best place to change currency is in the currency exchange stores.

VISA and MasterCard are accepted almost everywhere.

It is said that taking cash from an ATM will yield a better exchange rate than using an exchange bureau, or buying currency at home.


My pre-trip understanding was that the approximative exchange rate was 1€ = 4 AED, and that you can count up to €200/day for a couple (excluding hotel).

Frankly we did not spend much in either of our extended stop-overs in
Dubai
, and a lot less than the €200/day we originally envisaged. We had pre-booked and pre-paid for our visits, and both hotels offered full buffet selections as part of their 'executive' packages. But we did change some money, and buy a few bits and pieces.


Changing money
was just a bit harder that I had anticipated. There were more ATM options than exchange desks. I did change some € for AED at an exchange rate of 4.09, whereas 4.15 was of the official rate quoted on the Web. The exchange office did not even asked for an ID.

We
purchased
two creams at a local chemists:-
Eucerin Atopic Control 'Acute Care' 40ml was 91.35 AED (€21.9), and on amazon.fr €15.66.
Avene Cleanance Hydra Cream 40ml was 126 AED (€30.1), but possibly as little as €12 in Europe.

A
'daybed' for 2 people on the local beach
cost 210 AED (under $60), which included complimentary towels. It's impossible to truly evaluate this cost, because daybeds can cost between $70 and $400 a day depending upon the beach, the season, and with/without the purchase of food and drinks. So my guess was that 210 AED for the day was a fair price.

One last minute purchase was a box of 15 face masks at the local Boots chemist, just next to our beach hotel. Back in Europe people were worried about the supply of face masks, yet in Boots they were almost stacked to the ceiling.
Dubai - tipping

Most restaurants include taxes and a service change on the bill, so people will leave a small tip (10%-15%) depending upon the quality of service.

Most restaurants add 10% to the bill for a service charge. This charge is divided among all the staff in the restaurant, and is not just for the waiter. There is also a 6% government tourism fee added as well. The service charge can be even higher, but the customer can refuse to pay it.

One suggestion is to leave a small tip each day for housecleaning, rather than a tip at the end of a stay ($2 to $5 per night left each morning).

In terms of tipping:-
10% or even 15% for restaurants
$1-2 for bar drinks
'keep the change' or 'round up' 5-10 AED for taxis
Spa and hairdressers, 10% max
Valet 5-10 AED (or $1 per bag or a flat $5 plus $1 per bag)
Housekeeping 5-10 AED/night.

Remember 1$ is a little less than 4 AED, and 5 AED is about $1:40. So $5 is 18 AED, or 20 AED is about $5:40.


Dubai - weekends

The
weekend in
Dubai
is Friday and Saturday
. Most people have Friday off and 'basics' are harder to find. Generally it will be quiet on Friday morning, but
everywhere will be crowded on Friday afternoon
. Avoid malls and water parks on Fridays. Many Malls, restaurants, supermarkets, shops, etc. are open on Fridays.

There are lots of positive comments about a '100 meter long buffet' at hotels such as the
Doha Marriott
.


We can't comment on the weekend in
Dubai
, because neither of our stop-overs included a weekend.
Dubai - dress code
In the
Dubai Emirate
,
women
should dress modestly when in public areas like shopping malls. Clothes should cover the tops of arms and legs, and underwear should not be visible. No plunging necklines, and no sheer tops or dress where some lingerie is visible. Knee-length dresses or short are fine, even if the shorts are just above the knee, but there are places that require knees and shoulders to be covered. So women can wear nice tops, t-shirts, fitted jeans or trousers, or knee-length dresses or skirts (or longer). It's best to have shoulders and knees covered. In places like old
Dubai
it's best to have a light scarf over the shoulders and wear something reasonably long. Some mosques are open for organised visits, so women should wear trousers and cover their shoulders, etc. They should bring a headscarf, but often women will be loaned an '
abaya'
(traditional black robe) and a '
shayla
' (head scarf). Women should wear sandals, shoes or sneakers. Sneakers might not be allowed in the better restaurants for the Friday or Saturday buffets. A jacket (or shawl) is a good choice, with a top and trousers.
Swimming attire, including bikinis, can be worn only on beaches or at swimming pools (no topless), but not at beachside cafes or on the promenades. Kaftans are a great option.

In the
Dubai Emirate
,
men
should wear shirts and knee-length shorts more or less everywhere, but most restaurants and bars do not accept shorts or sneakers for men. When visiting a mosque men should wear shirts and trousers. For restaurants and bars men should wear dress shirts, dark trousers, and decent semi-formal shoes (no sneakers). A light jacket is cool.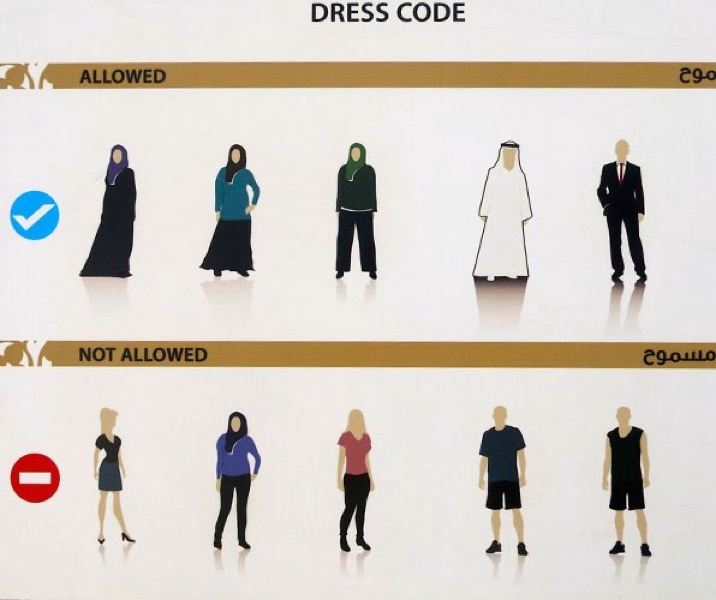 This is a sign seen at the entrance of mosques and shows that women should wear loose clothes covering arms and legs, and cover their heads. Men should also be well dressed, certainly arms and legs covered.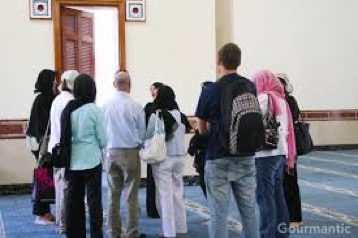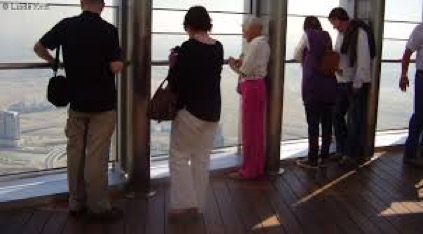 More generally I found some useful suggestions for Dubai on TheBohoChica, and women should always pack a light scarf or two, and a 'trendy' hat and sunglasses. Men should have a hat and sunglasses, and a cross-body bag for wallet, etc. Shoes should include flip-flops for the beach, shoes for restaurant and a pair for sneakers for walking and visits. Discretion is the key in Dubai, so no flashy short shorts, short mini-skirts, crop tops or mesh dresses, etc. Underwear should not be seen.

We certainly did not test any dress code limits. However in our visit for tea at the Burj Khalifa people were in shorts, torn jeans, etc., and in The Dubai Mall almost everything appeared to be accepted. We made an effort to dress smart casual at the hotel. Concerning shoes, both my wife and I wore sport shoes with a single bland colour.


Dubai - unmarried couples

Sexual relationships outside marriage is illegal in
Dubai
. So cohabiting in a hotel room is illegal, however most hotels do not enforce an 'only married couples' rule'.


Dubai - displays of affection

Displays of affection are not well tolerated. Holding hands is fine for married couples, but kissing and hugging in public are not acceptable. You can be arrested.


Dubai - swearing

Don't lose your temper. Avoid bad language, and any kind of vulgar language is considered obscene. Also avoid making rude gestures. You can be arrested.


Dubai - photographing

Don't take photographs of government buildings, police, etc. You can be arrested.


Dubai - drugs and drinking

Obviously, don't take drugs, and don't drink-and-drive. You will be arrested.

Electricity plugs & sockets

In
Dubai
they have 220/240 V, 50 Hz AC, and British-style 3-pin electrical plugs (Type G or 12 amp plugs). Below is a typical hotel socket that can take a variety of plugs.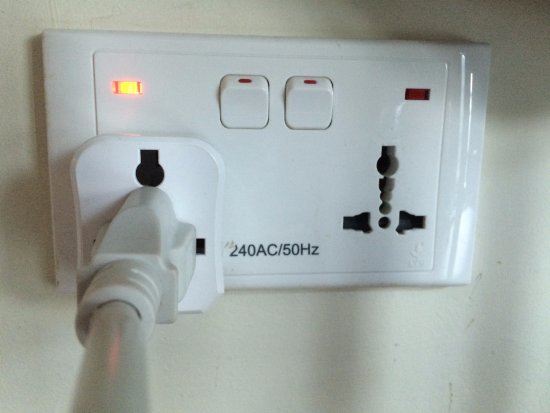 Telephone services

Using
local telephone services
was another issues often discussed on social media.

My local GSM provided me with information on using my iPhones in
Dubai
and
Phuket
. In addition I had a spare iPhone so it would be easy to pick-up a local SIM.

In
Dubai
you can buy a local SIM for about AED 20 and top it up as needed. It would appear that the authorities have blocked VoIP and Skype, but it might be still possible to phone using certain apps and the hotel wi-fi.


Crime

In
Dubai
person-on-person crime is low
, in part due to the fact that the city is well monitored (one website called it "
rigorous law enforcement
"). However there are reports of petty crimes such as pickpockets and scams. But be careful because public displays of affection such as kissing, swearing, rude gestures, photographing people without their permission, drunken behaviour, dressing immodestly, criticising the government, etc. are in principle illegal (and this includes on-line). Photographing certain public buildings and military installations is not allowed (this includes airports). Do not photograph women on the beach. It is probably a good idea to avoid
souks
because of pickpockets, and it best to stay in the malls. One article mentioned that
Jemeirah Beach
,
Motor City
,
The Greens
,
Green Planet
,
Dubai's Old Quarter
,
Emirates Living
,
Out Metha
,
Umm Suqeim
,
Discovery Gardens
,
Silicon Oasis
and
Dubai Sports City
were all safe. However it also said that both locals and tourists might consider avoiding
Dubailand
,
Al Shindagha
,
Sonapur
(the area with labour accommodation),
Deira
and
Bur Dubai
.

Also in
Dubai
there is zero tolerance for drug-related offences.


Scams in
Dubai
appear to be about people asking for help or offering the 'deal of a lifetime'. Some people are approached by a man with a fake injury begging for money. Others by a breakdown on the side of the road because they don't have money for petrol. Another one is the smartly dressed salesman who is trying to sell (at a fantastic discount) the remaining items from a successful sales meeting, e.g. designer clothes, kitchen utensils, luxury suitcases and bags, etc. In other words, the same type of scams you find everywhere.


Disinfect hotel rooms

This is a 'side issue' until it isn't. We take a
disinfectant spray
(or anti-bac wipes) with us and spray and clean surfaces, the TV remote control, and everything in the bathroom. Don't put things on hangers or in draws without first spraying them. Sanitise light switches and door knobs. Look for bedbugs on the mattress, bed frame and headboard (remember to look for small brown blood stains).
And whilst you are doing this also check that the heating and air-con works. Unplug and reset any alarm clocks. Check out the fire escapes. Make sure the safe works properly and disinfect the lock and inside. Remove any quilts, bedcovers, etc. and put them as far away from you as possible.


Dubai - ideas for tourism

Our travel arrangements were:-
Outbound - early arrival, 3 nights, and a late morning departure.
Return trip - early afternoon arrival, 5 nights, and an afternoon departure.

Our first hotel for 3 nights was the 5-star
Shangri-La Hotel Dubai
, and for the return trip it was the
Sofitel Jumeirah Beach
.

So our first stopover was near to
Emaar Square
and
Burj Khalifa
, and not far from the
City Walk
. It was logical to program visits etc. as a function of these two different locations, e.g. first the city centre, and then on the beach for our return trip.


Dubai - visits in the city centre (3 nights)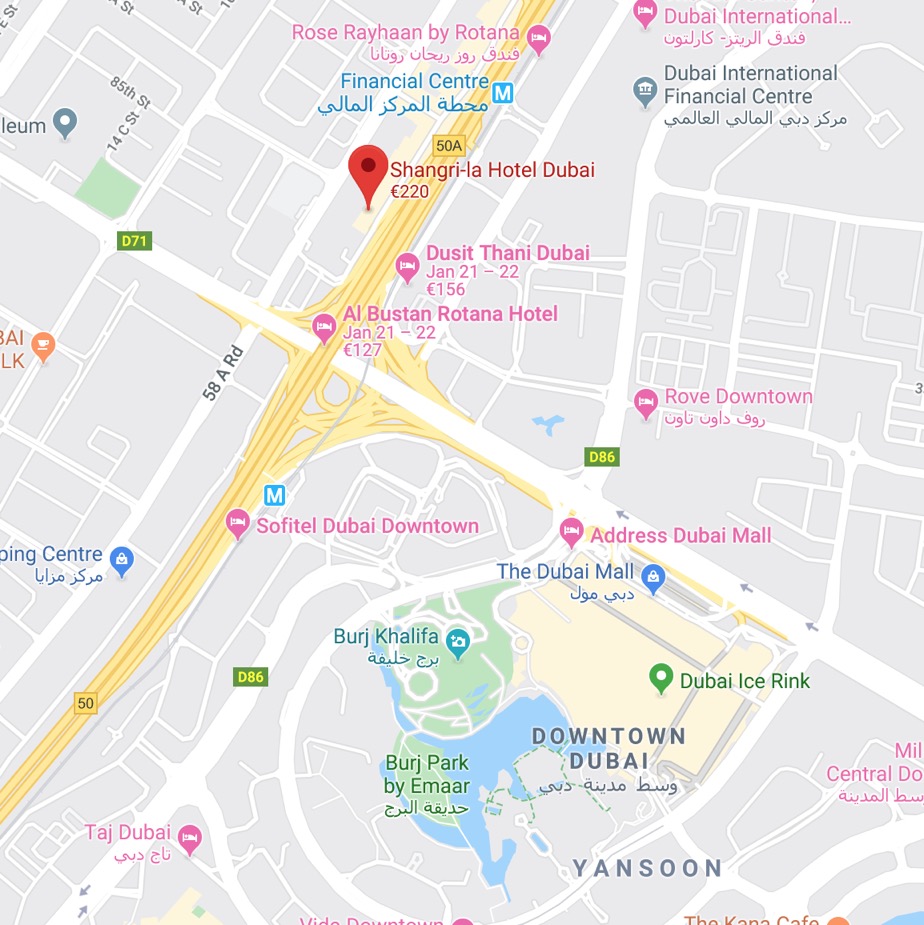 The 5-star Shangri-La Hotel Dubai has a complimentary area shuttle. It also has a full-service spa, an outdoor pool, 3 bars and 4 restaurants.

Our room included access to the 'Horizon Club Lounge', and included breakfast, non-alcoholic drinks served all day, and evening cocktails and canapés. The 'Horizon Club' is on level 41 and has views over the city.

The first thing to remember is that our 3-day stopover did not include a weekend (Friday-Saturday), so no famous Friday lunch buffet.

Being in the city centre it was logical to focus on a visit to The Dubai Mall, the Dubai Aquarium & Underwater Zoo (is also in The Dubai Mall) and the Burj Khalifa (is just next door to The Dubai Mall). And finally The Dubai Fountain is also in the grounds of The Dubai Mall.

During our outward bound stay over the 25th Dubai Shopping Festival was on. There was also mention of a special ceiling light display in The Dubai Mall, plus a 300-metre-long light 'experience' on the Waterfront Promenade.

Shopping at The Dubai Mall is also included in the Emirates Skywards Miles program (in-store purchases, dining, and leisure attractions). You do have to register here.

During our first 3-day stay we manages to see Burj Khalifa, The Dubai Mall, and The Dubai Fountain. We missed out on the Dubai Aquarium & Underwater Zoo. Our hotel review, and visit reviews are on separate webpages.


Dubai - beachside stay (5 nights)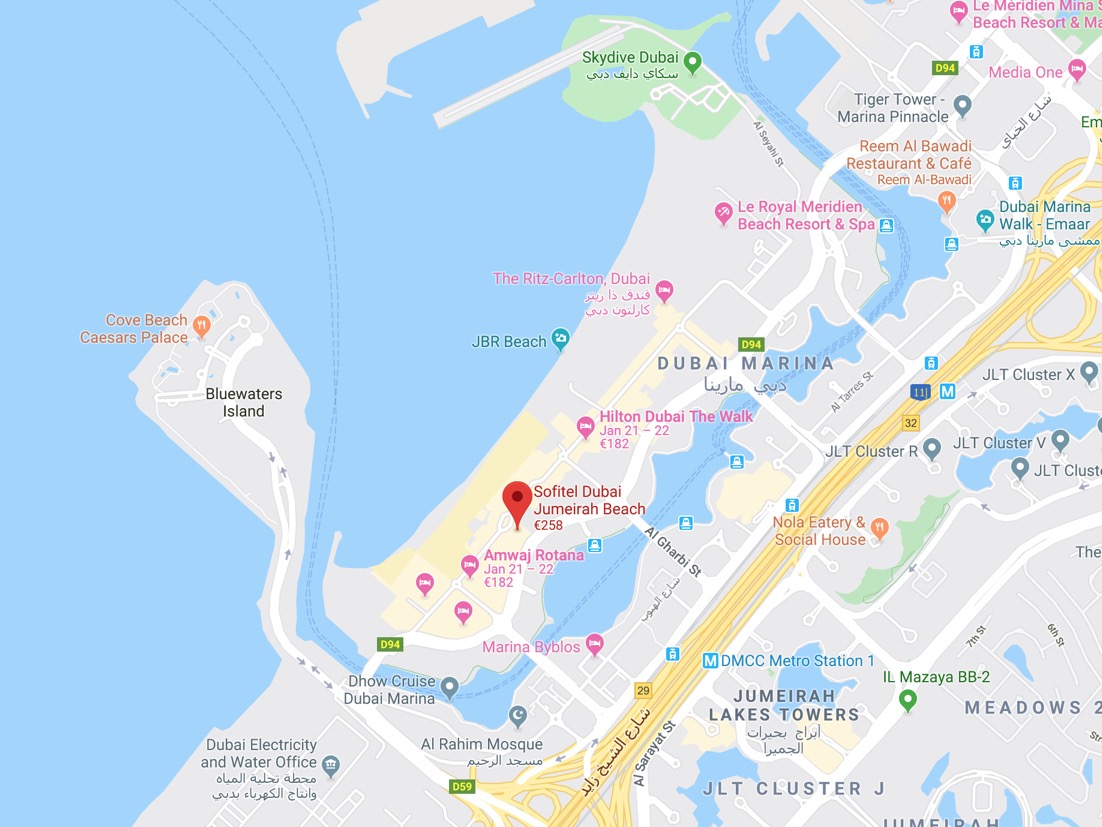 The 5-star Sofitel Jumeirah Beach Hotel is on what is called 'The Walk' and 'The Beach'. The hotel website looks full of 'stuff' but ends up not really telling clients what they might want to know. For example the 'Club Millésime' in the hotel has a different website, and no obvious link from the main hotel website.

Irritating, our 5-day return stopover did not include a Friday, so no famous Friday lunch buffet.

Staying at the beach gave us the opportunity to either do nothing, or to plan a few additional visits. It looked as if the best options were:-

The beach in front of the hotel is called the JBR Beach, and is now recognised as a great place to hire sun loungers and sun shades and spend the day. It is one of the most popular beaches in Dubai.

The Dubai Miracle Garden looked interesting. It is the worlds biggest natural flower garden.

Dubai Municipality offers tours of the beautiful Jumeirah Mosque.
We actually did nothing, and stayed on the beach.
What to do if we have travel problems
Missing
connecting flights
can always be a problem. We in fact have
no real connecting flights
. Technically our flight from
London
-
Dubai
-
Phuket
and return was a single round trip ticket, but each leg was separately ticketed.
But it is always possible that
a flight is delayed
. If that is the case it is normally the airline who should reschedule, and provided accommodation and meals as necessary.
Being
bumped
should mean a rescheduling and a cash penalty (you can demand a cash payment rather than vouchers).


Lost baggage
is a classical problem, and the airline should locate and deliver the baggage. It should provide compensation if the baggage is not found after 30 days.

Understand airline awards

I guess every airline has a
reward program
, or
frequency-flyer programs
, or
loyalty programs
. The aim is always to encourage customers to continue to user their services. At least according to Wikipedia "
more points have been earned by using co-branded credit cards than by air travel
". Reading through the different travel blogs the key is to fly often, and to use the points or miles accumulated.
Not as easy as you think. Even with a free ticket you will still have to pay taxes, fuel surcharges and maybe 'administrative costs'. But you also may get reduced fares, reduced baggage fees, seat-upgrades, lounge access, etc. The reality is that the average cost of a redeemed award is between $10 and $20, or even less if the seat was empty anyway (i.e. about $0.03 per mile). According to one report there are anywhere between 14 trillion and 23.8 trillion
unused frequent-flyer miles
accumulated worldwide. The reality is that the vast majority of people don't fly enough in one year to rack up enough miles for a free ticket, so the miles slowly become 'orphaned'. Equally the reality is that owners of those 'orphaned' miles may be able to redeem them for hotels rooms, etc., but they don't read the small print and options in their mileage package.
Why is a redeemed award so cheap for the airlines? Firstly, frequent-flyers may pay part of the ticket price, and secondly, they pay for baggage check-in, food and drinks, seat assignment, etc. People might use points to book a cheap seat, then pay the upgrade. Some points or mileage cards have annual member fees. In addition they sell advertising access to what is a very well defined and captive group. And finally they sell mileage packages to banks, car rental companies, hotels, etc. so that they can offer those mileages as perks on their products (i.e. selling packages at $0.010 to $0.015 per mile). Airlines can charge banks for the co-branding of credit cards. The reality is that in the US more than half of all credit card purchases are made with cards linked to loyalty programs.
Miles that sat on an airlines 'book' were accounting liabilities, and so they all have started to 'expire' miles, deleting them from members accounts (e.g. about 25% of all customers let their miles expire). In some ways this turns a liability back into a profit. Another approach is to include the mileage as a book value and to simple put a $ value on them, and then to manage mileage by increasing or decreasing the number of seats available of each flight, and extending or cutting the expire date. Most airlines have shifted from miles travelled to dollars spent, so they reward high-spenders and not economy-class flyers. On top of all that, airlines can flood the market with miles on co-branded credit cards, and then simply reduce their redemption value. Over the last few years airlines require more mileage points to fly some routes, and they have made it harder to redeem points, e.g. between 2016 and 2017 some airlines cut the value of the miles by more than 50%. Some airlines have managed to turn a liability into a source of profit, and some analysts estimate that as much as half of all airline profits now come from frequent flyer programs. Some customers don't like cashing in their miles for peanuts, so they just end up accumulating more miles.
American Airlines' AAdvantage program
has 100 million members, generated $2.1 billion in revenue in 2016, yet only 54% of the member actually redeem points.


Airline Credit Cards

In addition
airlines also issue credit cards
. If someone is likely to spend a lot or time (and money) with a particular carrier then it might be smart to take a co-branded airline credit card. As far I can see its a bit of jungle, or hit-and-miss, but these cards can provide benefits beyond travel if you factor-in the airline's partners and redemption perks.
So the idea is that you take a co-branded card, say
Mastercard
and an airline, for an annual fee of as little as (say) $69 or as much as $450 or more (sometimes waived for the first year). With that there is a bonus offer of 40,000 to 60,000 miles provided you spend $1,000 to $3,000 in the first 3 months. Some might even give you an extra bonus 20,000 miles if you continue to spend above a minimum limit in the first 6 months, etc. And along with the millage bonus you also get a package of perks that can include free checked baggage, preferred boarding, ticket discounts, rebates on in-flight food and drinks, lounge passes, different airline status awards, etc. In addition there are a lot of ways to add millage with purchases of petrol or restaurant meals. And to top it all you don't even have to use that card to pay for your tickets. On the other hand some cards offer substantial bonus miles the more its used during the year, and spending more could mean you acquire higher levels of status with the airline (kind of going from blue, to silver, to gold, to …., etc.).
The downside it's that with some programs the number of award spaces is limited, and often you never manage to use the miles, and some of the cards charge a foreign-transaction fee which kills the incentive for those using it for overseas trips.
Reading through the different programs, almost all have different conditions, features and awards, so you need to really read the fine print and pick the right one for your needs. The key message is that if you want the perks, you will probably need to pay for the card. However there are no-fee cards that still provide limited bonuses and some benefits, e.g. 10,000 bonus points rather than 40,000, but with a lower spending requirement. Another key message is the more you pay, the more you get in benefits and perks, but you have to be careful since airlines can easily change the criteria, and thus the value, of rewards and perks. So my advice is to read the fine print, look at all the travel award websites, and above all read all the recent comments (start with
The Points Guy
,
Credit Cards
,
NerdWallet
, etc., but most of these websites are US oriented).


British Airways Awards
BA
runs an
Executive Club
which they call a 'holiday fund'. You collect
Avios Points
when you fly
BA
or stay in selected hotels, use selected car rentals, or subscribe to specific credit cards. These
Avios Points
can be used to 'buy' reward flights, cabin upgrades, hotels and even car rentals.
BA
represents them as a kind of club currency.
In addition to
Avios Points
,
BA
also has so-called
Tier Points
. The more
Tier Points
you collect the more rewards there are. These
Tier Points
are represented by
Executive Club
blue, bronze, silver, and gold cards. Each card requires a minimum number of
Tier Points
, and each card delivers a certain number of benefits, e.g. free seat selection, priority check-in and boarding, additional baggage allowance, etc. You can also purchase up to 100,000
Avios Points
, but only for another account.


Avios Points
Avios Points
are collected from
Aer Lingus AerClub
,
Iberia Plus
,
British Airways
,
Vueling Club
as well as Apple Store, Budget care hire, Club Med, Esso, Interflora, Lastminute, Microsoft Store, Sandals, TUI, Tesco, The White Company, Vodafone, Walt Disney Travel, and many others. The
Avios
website also list ways to spend
Avios Points
.

Certain reviews suggest signing up to all
Avios Point
airlines. They all use
Avios Points
, and the points can be freely transferred or 'combined' between the partners. Some of the 'independent' review websites mention the four airlines that use
Avios Points
, but also note that you can book with
all the other Oneworld companies
and just enter your
BA
Executive Club
membership number during the booking process. The
BA
website lists the
hotel partners
including AccorHotels, Best Western, Booking.com, Hotels.com, Hyatt, InterContinental, Mandarin Oriental, Marriott and Shangri-La. Both
Avis and Budget are partners
.

It is interesting that one of the review sites noted that 1,000
Avios Points
can be worth as much as £20 on a business class return, but as little as £2 for certain economy return flights. It is said that availability is limited and it's important to book really early with
Avios Points
, but booking early means that great deals might also be found with other airlines.
Avios Points
requires that taxes and fees are paid, which could add up to several hundred pounds on certain transatlantic flights. So it may be better to use the
Avios Points
to part pay for short-haul European flights. There is a
BA reward flight calculator
with the option to also look for off-peak flights and get better deals. One additional point to factor in is that
Avios
bookings come with checked baggage included. There are a lot more money saving ideas
here
, but it's best to look at the ideas when you have a specific travel plan in mind. And remember to check the dates on the different websites, and not spend time reading something that is outdated.


Tier Points

With
BA
, and in addition to
Avios Points
, there are also
Tier Points
. These '
Tier Points
' correspond to BA's four status cards, blue, bronze, silver, and gold. You need 300
Tier Points
for
bronze
, and this gives you free of charge seat booking 7 days before departure, priority check-in and boarding, and a 25% bonus on
Avios Points
. You need 600 tier points for
silver
, and this gives you free of charge seat reservation at the time of booking, priority check-in and boarding, extra baggage allowance, club lounge access even if travelling economy, and a 50% bonus on
Avios Points
. You need 1500 tier points for
gold
, and this gives you free of charge seat reservation at the time of booking, priority 'first wing' check-in and security clearance, priority boarding, extra baggage allowance, club lounge access even if travelling economy, and a 100% bonus on
Avios Points
.

For people who travel a lot with
BA
many look to maintain or improve their 'status' (e.g. keep their gold card status, etc.). And some people will actually make so-called '
Tier Point
runs
', or flights booked mainly to maximise
Tier Point
earning in a short time and at a cheap price.
Tier Point
runs are specific 'mileage runs' for
BA
status points. Most people will try to simply optimise their holiday and business travel to maximise tier point earning, but what happens if you need those extra miles to retain or improve your 'status'. Firstly you need to complete four BA operated flights to earn their points. There are a number of websites such as
Flyertalk
who chat about how to optimise flying mileage and points. As an example, you need the 500 points for silver status, then you might consider a
Qatar
flight from Scandinavia to Asia, and adding the round trip economy fare to somewhere in Scandinavia you will certain clock up 600+ tier points. This could be a Helsinki to Bangkok for around £1,000. Or you could fly from Dublin to Hawaii for around £1300 to £1800 and clock up about 900 tier points. The key is to look for the current deals, and use them, but remembering to read very carefully the fine print. For those people looking to just pick up a smaller number of tier points, a day trip flight to Brussels, Amsterdam or Paris might be enough. You can pick up 80 tier points with a trip that might cost under £200, and at different times some round trips offer double tier points. One report (no doubt out of date now) listed 13 European destinations yielding 80 tier points for Club Europe tickets priced at £143 to £198. BA actually has a webpage dedicated to the
cheapest fares from London
. One of the specialist websites actually noted that paying £3 per tier point is acceptable, and £1 per tier point is outstanding. A good example of the need to look carefully at what's on offer, is that a normal business class transatlantic flight can cost as much as £15 per tier point.
BA
also has a
Avios and Tier Points flight calculator
so you can see just what you can collect on any particular flight. At least according to some websites the best thing is to look for those companies who aggressively market business class fares. In 2019
Qatar
was offering long-haul flight at prices around £1.60 to £1.90 per
Tier Point
. Or you can wait for transatlantic sales that occur every 3-4 months, and pick up offers that when tied together take you over certain mileage thresholds and can substantially drop the cost of
Tier Points
. If you are really into this then you must also check out this posting on '
Maximum Permissible Mileage
'. And the website '
Points to be Made
' looks at a lot of ways to maximise loyalty programs with a particular focus on European options. Other websites worth checking out are
flyertalk
,
Premium-Flights
,
Thrifty Points
,
InsideFlyer
,
Head for Points
,
Traveling for Miles
,
Tricks of the Trade
,
Continental Club
,
One Mile at a Time
, …, and so on.


Emirates Skywards
Skywards
is the
Emirates
loyalty program, and rather than join an airline alliance,
Emirates
have a number of partners where you can earn and redeem
Skywards
miles. Once you have joined you start with the blue tier, and then there are sliver, gold and platinum 'elite status' cards. The miles expire after 3 calendar years, but actually only expire at the end of your birthday month, so it sounds like being born in November or December is an advantage. To get silver status you need 25,000 tier miles or 25 flights, and tier miles are only earned on
Emirates
flights or code-shared flights, i.e. only tickets with flight numbers starting 'EK…'. So basically
Skywards
miles are really only for
Emirates
flights, and are not linked with another airline. However
Emirates
is partnered with a number of other airlines, including easyJet, Japan Airlines, Qantas, and TAP Portugal.
Emirates
are also associated with a number of
hotel chains
including Booking.com, Hilton, Hyatt, Ibis, InterContinental, Kempinski, Mercure, Novotel, Shangri-La, Sofitel,…, and
car rental companies
Avis, Budget, Dollar, Europcar, Hertz and Sixt.

Check out:-


My guess is that the best way to use
Emirates
miles is to upgrade paid tickets.