Buying Suitcases
last update: 14 March 2020


My wife and I have had a variety of suitcases over the past 40-odd years. I don't think we ever actually thought too much about what we bought. We had suitcases, and when they were damaged beyond repair we bought new ones. Here, finally, I've started to think about what to buy. In part because limits on carry-on and check-in luggage have become a major constraint, and in part because having changed our car we need to optimise our use of the new boot space available to us.


When I was a student my first suitcase was an old army canvas suitcase a bit like the one below, although most of the time I just used a rucksack. Remember in those days we did not have laptops and a pile of cables to worry about.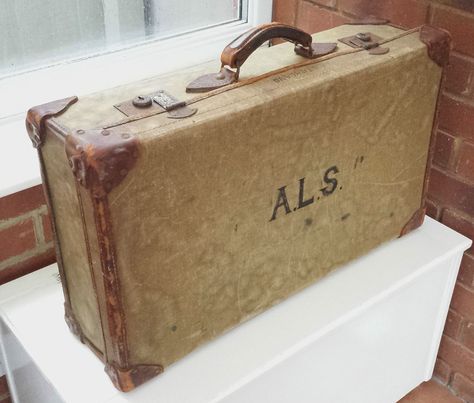 When I moved abroad I kept the rucksack, and put the rest of my worldly possessions in an old wooden army ammunition box.

Later with my wife, it was fashionable to have a matching set of suitcases made with a mix of fabric and simili leather.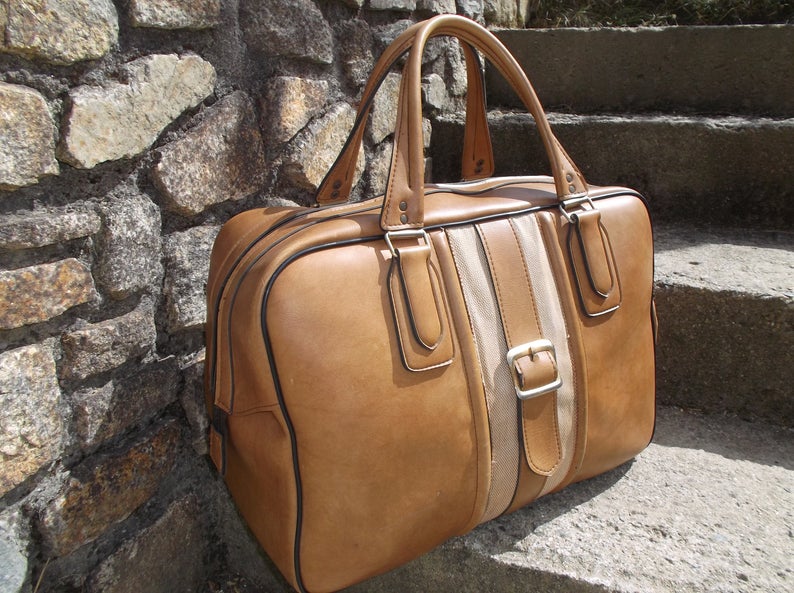 The problem was that you could overfill them and they just became too heavy and cumbersome to carry around. In fact we had a little folding trolley.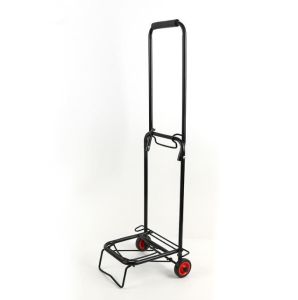 These suitcases turned out to be of excellent quality and incredibly robust, and later they sat in our garage for years because we could not bring ourselves to get rid of them. We also collected a couple of sets of matching bags, and they also sat in our garage for years before we gave them away.

Now of course they are being sold as 'vintage' items, and some manufacturers are producing 'retro' copies of the old style suitcases and bags.

As we started to fly more and more frequently we turned to the classical clam-shell type with a set of wheels and a small folding handle (the early type of 'roller').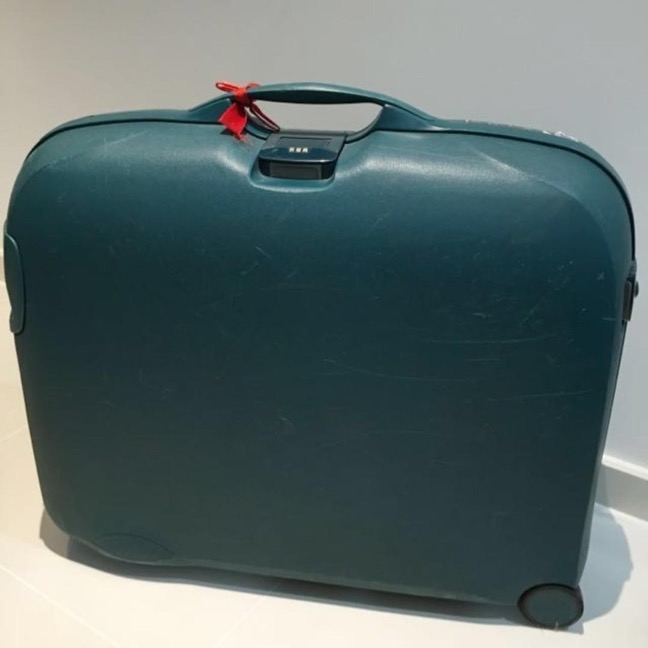 This type of suitcase offered substantial protection to the contents, but they turned out to be quite delicate. After two of three flights they were banged and scratched, and over time handles were broken off, combination locks smashed, wheels lost, etc. However you could get them repaired, even if it might take several weeks.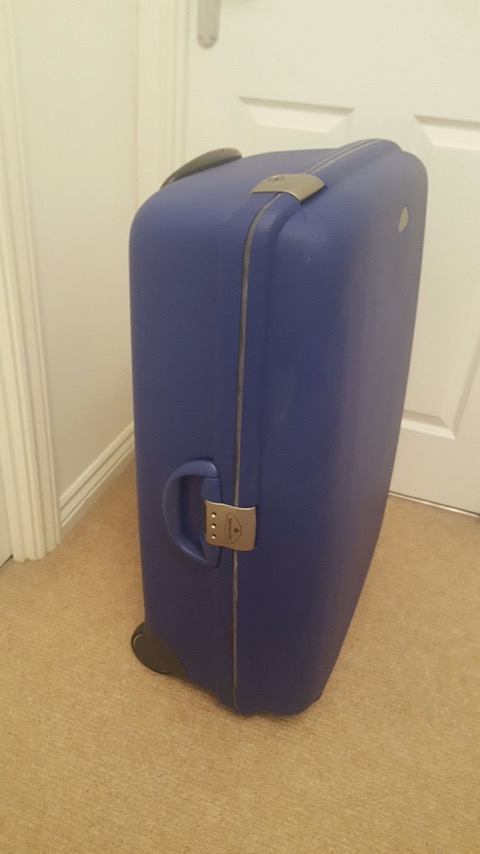 The next version was just a variation on the clam-shell. They still had two wheels but the orientation was vertical and there was a long handle that retracted into the back of the suitcase. The ergonomics was substantially improved, but it still got a considerable knocking about when flying.

The problem with this last option was that we picked one big suitcase, which meant that when full it weighed a ton. It was difficult to load into cars, and I'm certain it was badly treated by baggage handlers. But it was fantastically resistant, and the only thing we had to occasionally replace were the locks.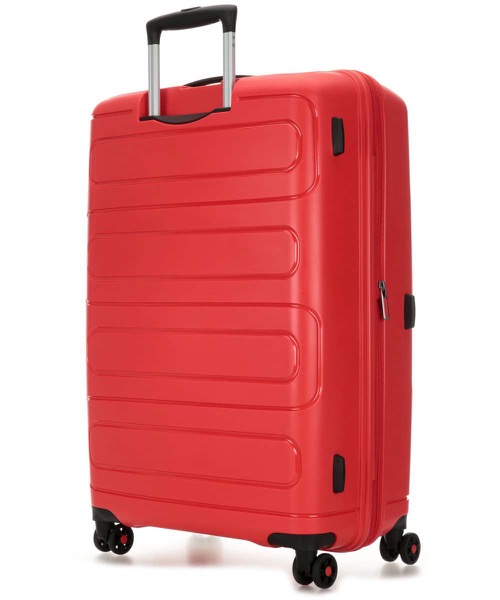 Around 2012 we moved to a pair of colourful, medium sized 'spinners' (i.e. the suitcases with four wheels that can spin around 360°). These had hardish bodies, zip closing, and four wheels. They were the usual Chinese made clones, quite robust, and not expensive. The key was that being medium-sized they were easy to handle, and easy to lift in and out of the car. And with four wheels they were really far easier to use that the older 'roller' type of suitcase. The key defect was the zip, which when broken could not be repaired or replaced.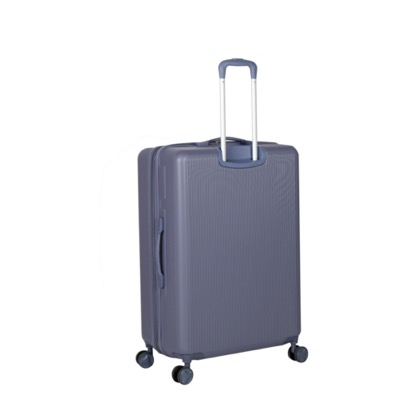 After about 5 years of relatively heavy use, the zips broke, and we replaced the two suitcases with two of the cheapest equivalents I could find in out local supermarket (about €45 each). These two new mid-sized suitcases have proven to be perfect for extend holiday trips in the car.


Thinking about suitcases

So we had accumulated a variety of suitcases that all fitted together in our old car, a bit like a jigsaw puzzle. We have one large, two medium-sized, and two carry-on small-sized suitcases. This allows us to move around and use different suitcases for different lengths of stay.

So what is the problem? We are planning a major trip and we had to decide if our suitcases were going to resist/survive a number of short and long-haul flights. Also we have a new car, and we need to ensure that whatever we bought fitted neatly into the new space we had available, along with a combination of our existing collection of suitcases and bags.

For our trip (2 short-haul and 4 long-haul flights) do we go with what we have, and accept that we might have to replace the suitcases if they are damaged or broken? Or do we opt for a couple of new Samsonite's (or clones), or are we going to splash out for a pair of suitcases from Briggs & Riley, or even Louis Vuitton?

First I've no intention of paying €500 or more for a suitcase. What we needed from a suitcase was that it is both
resistant and durable
, and
easy to wheel around
. We didn't care too much about style or make, but we are certainly interested in keeping the
price reasonable
.


Airline size and weight limits

Our problem was about suitcases, etc. for flying, so we needed to look at what the airlines had as limits for check-in and carry-on.


Remember that maximum dimensions are from the bottom of wheels to the tops of handles when retracted, i.e. not just the body of the suitcase.


One airline allowed passengers to
check-in
as many pieces of luggage as they wanted with an upper limit of 15-35 kg/person (dependent upon the type of economy ticket), and with an upper limit of 40 kg/person for business class. The upper weight limit on single pieces of luggage was 32 kg. There was also another limit on the overall dimensions of a suitcase/bag. The total dimension (length + width + height) for an individual item must not exceed 300 cm (which is massive and would cover also a golf bag).
Economy passengers were allowed one piece of
carry-on
baggage (maximum 55 cm by 38 cm by 20 cm), and weighing a maximum of 7 kg. Business travellers were allowed two pieces of carry-on baggage, e.g. a briefcase plus either a handbag or garment bag. The briefcase must not exceed 45 cm by 35 cm by 20 cm, the 'handbag' must not exceed 55 cm by 38 cm by 20 cm, the garment bag must not exceed 20 cm when folded, and each piece must not weight more than 7 kg.


In one presentation the carry-on allowances for this airline was presented as 55 cm by 38 cm by 20 cm, and for business class a second item was allowed with the dimensions 45 cm by 35 cm by 20 cm, with a maximum weight of 7 kg per item.
Flights to and from the Americas are assessed differently, and based upon both weight and number of pieces.

With this airline, golf equipment was part of the checked-in baggage allowance, and was subject to the total dimension limit (300 cm). Also in my opinion it is best to try to keep the weight of each item under the 23 kg weight limit as well.
Often when a briefcase, laptop bag or handbag are mentioned it means just that, and the idea is that they can be easily stowed under the seat in front of the passenger, e.g. something like 40 cm by 25-35 cm by 20 cm would work comfortably for most airlines.


On a different airline,
check-in
baggage was limited to 90 cm by 75 cm by 43 cm and with a weight limit of either 23 kg or 32 kg depending upon ticket class and route. Economy allowed one or two items at 23 kg each, and business class allowed 2 items at 32 kg each.

Carry-on
bags were limited to 56 cm by 45 cm by 25 cm, with all passengers allowed one piece of hand luggage and one small items such as a handbag or laptop (these smaller items were
l
imited to 40 cm by 30 cm by 15 cm). No single item could weight more than 23 kg.


On one webpage the carry-on allowances for this airline was presented as one carry-on plus a 'personal item'. The carry-on was limited to 56 cm by 45 cm by 25 cm, and for the 'personal item' the maximum dimensions were 40 cm by 30 cm by 15 cm, with a maximum weight of 23 kg per item.
With this airline golf bags were also part of the check-in allowance. The bag must have a maximum size of 190 cm by 75 cm by 65 cm, be a recognised bag to safeguard against damage, and weight less that 32 kg (but best keep under the 23 kg limit).
So what did we do?

Looking at
our existing suitcases
we had:-

One large spinner suitcase 77 cm by 52 cm by 30 cm (max. exterior dimensions)

Two mid-sized spinner suitcases 62 cm by 44 cm by 27 cm (max. exterior dimensions)

Two small roller suitcases 50 cm by 40 cm by 22 cm (max. exterior dimensions)

Golf bag 140 cm by 37 cm by 35 cm (max. exterior dimensions)

The large suitcase was well within the dimensional limits set by the two airlines mentioned above, but could easily exceed weight limits if overpacked. And even a large golf bag fell easily within the limits set by the airlines.

The weight of the mid-sized and the small suitcases were almost the same (the larger about 3.2 kg, and the smaller just about 2.8 kg), almost certainly because both had wheels and extending handles, etc., so the only different was the weight of the ABS/polycarbonate body.


We could see already that even the small roller carry-on style suitcases exceed the allowed dimensions for one of the airlines. And with its weight of about 2.8 kg, plus a portable computer, iPad, chargers, etc., this would leave about 2 kg for overnight clothes, toiletries and medication. So the conclusion was to replace the small 'roller' carry-on with a
lightweight overnight bag
or
light-weight spinner designed for carry-on.
And to that add a
small backpack
for the laptop, accessories and travel documentation, etc.
'Horses for courses'

Of course this is all about having the right suitcase and bags for the task at hand. Requirements placed on suitcases and bags can be quite different depending upon the mode of transport, e.g. plane, car, bus, train, etc., and the duration of the trip.
Baggage must conform to the requirements of the airlines, etc., whereas in-car baggage that optimises the space in the boot might be more important.
People tend to forget that baggage spends most of it time at home, stored away in a corner somewhere, and rigid suitcases take up a lot of storage space.

With our existing suitcases we had opted for inexpensive mid-sized, hard-sided, 'spinners' closed with a zipper. These proved to be easy to load in our car, and easy to move around in parking areas and hotels.


So our target was to find a mid-sized 'spinner' suitcase (but bigger that our present model), and (if possible) with the zipper replaced with a metal frame, latches and locks.


When we write 'bigger' we meant slightly bigger than our existing mid-size at 60-62 cm long, and 'slightly' meant going up to maybe 66-68 cm overall length (i.e. bigger but not big).

Some additional requirements included square edges to maximise the interior volume, no outer compartments, and, of course, all for a reasonable price. The handle should retract completely and the suitcase should weight no more than about 3.5 kg and have TSA compliant locks.

And it would be nice to be able to easily identify them on the baggage carousel, but remember light colours dirty quickly. One cool option would be to use
suitcase covers
. These make your bags easily identifiable and they protect them as well.

It may also be time to go for a make that comes with a decent warranty, and the possibility to repair if (when) damaged.


Some key messages
Avoid oversize bags, and don't overfill them (remember you never wear half the clothes you take with you)

Go for sturdy, reliable brands and a lightweight hard-shell (a repair warranty is valuable)

Go for a spinner design, but one where you can change broken wheels yourself

Pick the right carry-on bags (spinners take up more room in overhead bins, and soft-wall bags means you can stuff more into them as carry-ons)

You should get a sturdy zipper (metal is better than plastic) and a long handle that locks both up and down

Try to keep carry-ons below 55x35x25 cm (you must check the rules for each carrier). And many 'experts' advise travellers to keep check-in bags below 230 cm (length + width + depth), but frankly I think this is far too big and the risk is that you pack too many clothes and end up going over the weight limit (I would keep it to around 150-170 cm).
What we ended up doing

The idea to find spinner suitcases that were slightly bigger than our present ones fell through. They exist, but it seemed ridiculous to change two good mid-sized suitcases just to gain a 10% increase in volume.
We purchased suitcase covers for our existing suitcases, and used a colourful security strap on each.
I must say that the suitcase covers did a fantastic job, and we finished our trip with just a small knock in one corner of one suitcase.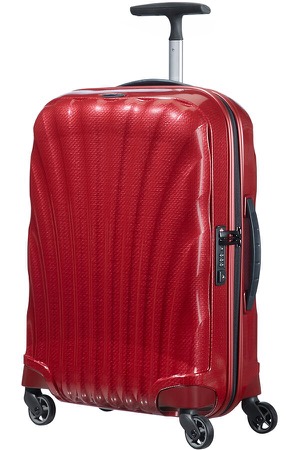 In addition, we found a light-weight hard-sided carry-on spinner that gave us all the additional space we needed. Given that it was a carry-on we went for a super light-weight Samsonite Cosmolite spinner (in some markets just called the C-Lite). The key feature in terms of both practical volume and weight is that the handle is just one extendable bar, and not two. Expensive, but I hope we will keep it for many years to come.

During our trip the clasp on my wife's vanity case was broken beyond repair. We were in Thailand and found that the hard-shell vanity case just does not exist. We bought a replacement bag, and now back at home we will need to source a new vanity case, possible one that matches the Samsonite Cosmolite.